Android Training Course In Mumbai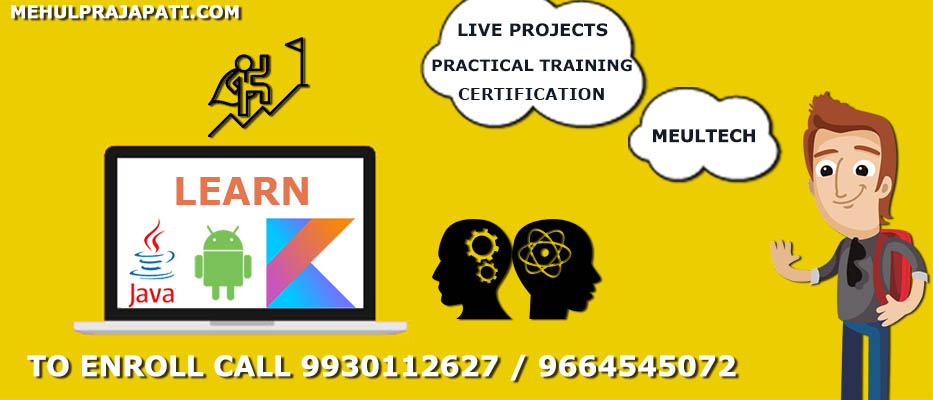 4.9
out of
5
based on
996
user ratings
ANDROID TRAINING COURSE DESCRIPTION
Meultech provide 100% Practical Android Training Course in Mumbai. Learn mobile app development training from experts with Job Guarantee. Specially for fresher to enter in mobile development. Its Job Oriented Android app development training.
Why one should choose Android App Development as career?
We are living in a world of Android phones. More than 50% of the world population uses Android phones. That is why the mobile app development market in India and around the world is booming.
We at MeulTech mainly focus on creating unique mobile apps using Java and Kotlin language. If you have decided to pursue Android Application Development Training it will be the most smart decision to initiate your IT­ Software career.
Job market in India is on the rise. One can make his/her own application/game, upload on playstore and earn money. Students can use Augmented Reality to make apps too.
Android Application Development Course is hands-on training that provides practical knowledge about Android Apps life cycle. The objective of these courses is to make students aware about the entire development cycle of the Android apps.
The course is a combination of lectures and hands-on exercises that provide real-world experience.
WHO SHOULD ATTEND



Anyone who is looking to enter the Mobile Apps Development.
Beginners, Junior Software Developers, Senior Software Developers, Team Leads and Managers.
Hobbian who wants to bring their ideas into potential Apps.
Anyone who wants to make sophisticated mobile applications for Android.
PREREQUISITES



Knowledge of object oriented programming is useful. But even if you don't know anything, we will teach you from scratch.
LEARNING OUTCOMES
Over 55.5 hours of content!
LIVE PROJECTS. End to End Android apps Training Included.
Information packed practical training starting from basics to advanced IOS techniques.
Best suitable for beginners to advanced level users and who learn faster when demonstrated.
Course content designed by considering current Android technology and the job market.
Practical assignments at the end of every session.
Practical learning experience with live project work and examples.
PLACEMENTS
After learning the Android app development training course in Mumbai, you will surely get placement in your 1st or 2nd interview itself. Yes, we guarantee placements if you practice hard and create mobile apps with us.
CERTIFICATION:
Get Android certification and become a certified developer. This certification course in Android will give you an extra edge over normal candidates.
You can also get an internship certificate.
Why Googles Android phones are better than the iPhone?
There are many reasons why Googles Android phones are better than iPhone or any other Smartphones on the planet.
One main reason can be simplify in just one word: CHOICES !
Imagine a phone that is as capable and better than the iPhone but without the monopoly of one company, Apple. That is what Android is all about. The ability to run tens of thousands of apps just like the iPhone but with choice of phone models that you can choose from. The choice of with or without physical keyboard, shape, color, phone size, screen size, manufacturer, features, and phone carrier. No more monopoly by one company on one carrier. Choices drive competition. The competition within Android phone manufacturers itself will inevitably make Android phones even better than what it is today, and in a short period of time.
How To Download Java & Android :



Download Android studio from this link – https://developer.android.com/sdk/index.html
If you get an error during the installation process , immediately google, you are bound to get an appropriate answer; mostly from stackOverflow. Follow the corrective measures. Still if problem persists, then we are here to help. Just mail your queries to meultech@gmail.com
Download Java SE from this link – http://www.oracle.com/technetwork/java/javase/downloads/index.html
List of practical programs executed in class. To be practiced at home too.
How to upload an Android app on market – click here
Example Project Development – Specifications
Simulating a RSS News Feeds app like Times of India App.
Online Learning App project.
Artificial Intelligence Project.
Offline Voting App Project, and many more.
OTHER IMPORTANT COURSES:

MACHINE LEARNING CLASSES.
PYTHON TRAINING IN MUMBAI.
For More Details Call 9930112627/9664545072.
Course Features
Lectures

22

Quizzes

0

Duration

50 hours

Skill level

All levels

Language

English

Students

0

Assessments

Yes
Java

Getting started with Android

Activities and Intents

Android user interface

Designing user interface using views

Displaying pictures and Menus with views

Data Persistence

Messaging and Networking

Location based services

Developing Android Service 1

Developing Android Service 2

Async Task

Toast, Dialog

Publishing Android application