Python Django Training Mumbai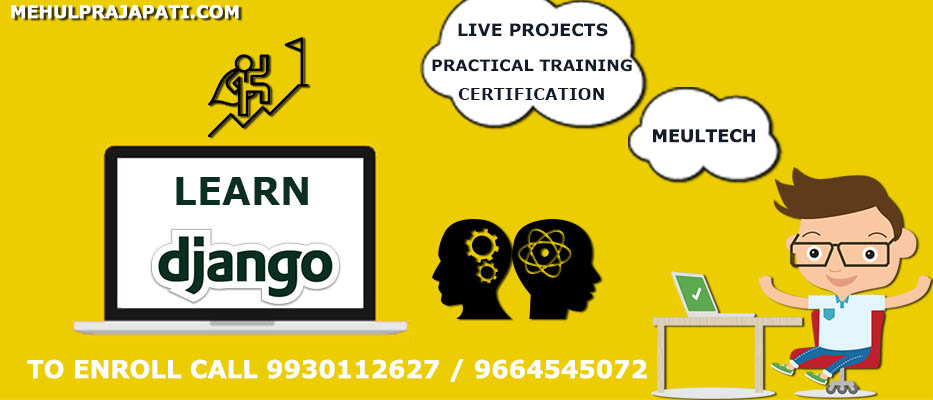 4.9
out of
5
based on
488
user ratings
Python Django Training Description
Django is the framework used by some of the biggest websites in the world including Instagram, Pinterest, The Washington Times, Mozilla, and the Public Broadcasting Service. Complex database -driven websites like these need a web application framework – and that's exactly what Django does. Master Python Django and you can create web application, sites with e-commerce functionality, and much much more.
Open a World of Possibilities with Django for Web
Create a website from scratch using Django
Learn Django from beginner through to fully functional levels
Build authentication systems, map integration, web services and more
Test and de-bug your site
Create web applications to solve a multitude of problems and needs
Create Django API, Django E-commerce, and More
This expansive course will take you from beginner level right up to having a thorough working knowledge of Django. You'll create your own website from scratch using Django and featuring an authentication system, E-Commerce with PayPal and Stripe, Geolocation and map integration and web services.
You'll start by getting to grips with the absolute basics of what Django can do. These sections are slower and more thorough than others so that you gain a solid foundation. After that, you'll begin to build your site, adding a new element with each section of the course. By the end of the course, you'll have fleshed out a fully functional web storefront that's capable of taking orders, processing payments and receiving and displaying input from the user. You'll be surprised at how rapidly you can build complex functionality – that's the true beauty of Django!
What Will I Learn?
Develop in the real world using Python Django.
Create Django web applications to solve a multitude of problems or needs.
Separate the presentation from the business logic.
Build an online store to show off products.
Accept user input in the form of reviews.
Integrate with third-party payment services to process transactions.
Use map integration to physically represent data.
Who is the target audience?
This course is ideal for those who have moderate Python development experience.
Django's specific strength is a "batteries-included" approach, acting as wrapper around a database with a user-driven focus, so this assumes you're looking to develop in that direction.
It is NOT for those who have no experience with Python – the learning curve is likely too steep.
Similarly, it isn't for beginning developers. If you have experience in another language, knowing general programming concepts may help, but overall it leans on Python too heavily to be an effective teaching tool without the basics.
Course Features
Lectures

46

Quizzes

0

Duration

50 hours

Skill level

All levels

Language

English

Students

89

Assessments

Yes